April 2018 Student Spotlight – Ronnie Paul
April 10, 2018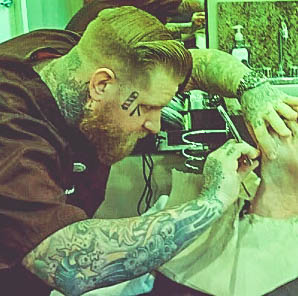 Name: Ronnie Paul            Age: 32
LaBarberia Institute of Hair, the Cleveland Barber College has been recognizing our students with a monthly spotlight, for their talents, ambition, and hard work. For the month of April 2018 we would like to acknowledge Ronnie Paul from Chardon, OH.
Before coming to LaBarberia Ronnie had an average, run of the mill, day to day job scheduling all the outbound shipments for a local warehouse. He had been cutting hair on and off for friends for almost 10 years and had always wanted to come to barber school, but the timing was not right. He feels that everything happens for a reason and coming to LaBarberia happened at the most perfect time for him.
Ronnie's biggest challenge thus far in barber school has been mastering facials, but with the help of his awesome teachers he is feeling more confident in them through their instructions and lots of practice. The most rewarding thing for him has been seeing people out in public while wearing something barber related, and being able to engage that person about his new career choice. A lot of these interactions have turned into new clients!
In his free time Ronnie enjoys spending time with his wife and kids, cruising around in their hot rod 1950 Pontiac, hot rod car shows, live rockabilly music, and playing in his crazy care free silly rock-n-roll coverband Miserable Idiot.
Instagram: